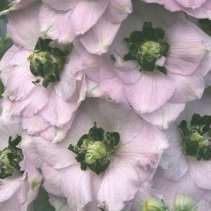 The third case is a fairly normal-looking flower, except for a green cluster in the centre of the eye. These green clusters extended on a stalk and developed as well-formed normal flowers with the same colouring as the first set.

Occasional development of such secondary buds is fairly common but the unusual feature here was that every floret on the plant flowered a second time.

Such repeat flowering would seem to be very advantageous for the perennial border. The problem with this plant was that the sepals from the first flowering remained firmly attached as a rotting reminder of the former glory.