D. burkei:
A brief guide to stages in seedling development
Burke's larkspur (the meadow larkspur) occurs in western America from British Columbia to Oregon and eastwards to Idaho. It is found in wet meadows, sagebrush desert and ponderosa pine forests, generally where the ground is dry by midsummer.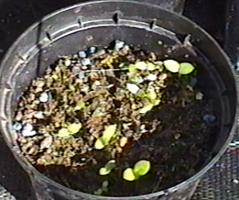 Seed collected from the Columbia River Gorge region was sown in multipurpose compost in January and left outdoors exposed to the weather. Germination occurred in March. The cotyledons are at the top of a single stalk. A small tuber forms at the junction between this stalk and the root. The first true leaf then grows up from this tuber a few weeks after germination. No seedlings developed further in the first year before becoming dormant. Slugs damaged some seedlings soon after germination and it is essential to take precautions to avoid this happening.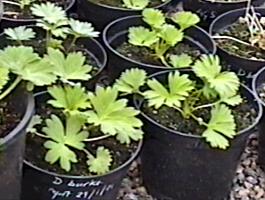 Pots containing dormant plants and ungerminated seed were kept dry during summer and autumn, but wetting during winter caused growth to restart in early January. Seedlings were pricked out into individual pots in late January when leaves were seen emerging from the compost surface. The plants grew quickly with just the overhead protection of a cold frame. By mid March, seedlings in their second year had developed five, or more, rounded leaves.
The plants soon began to develop a flower stem and, as this grew, the leaves at the top became more serrated. The leaves at the base of the bloom leaves have very narrow segments.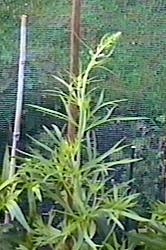 Plants flowered during May and June. The flower stem is slender and for a plant in its second flowering season the raceme was almost 60 cm long with 52 florets on a plant 1.2 m tall. Plants flowering for the first time have a shorter bloom with less flowers. Flowers on side shoots developing from leaf axils on the stem extend the flowering period.
The flowers with a diameter of about 28mm are held close to the stem on short pedicels (70mm max.) so that the bloom is long but very narrow (55mm wide at base). There was considerable variation between plants in flower form and colour. Most plants had a prominent pair of bracts up to 30mm long like crossed swords behind the flower. Sepals varied in width and the blue colour was frequently heavily overlaid with purple tinges.
Cultivation difficulties experienced during the past season include partial root loss and rotting of the stem at the soil surface caused by botrytis. Both problems were perhaps caused by overwatering of the peat-based compost used. The plants were also damaged by mildew towards the end of their flowering season.